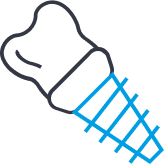 An implant or artificial root
Lost teeth can be replaced. Implants are often used. These are artificial roots that are placed in the jawbone. However, there are a number of prerequisites: good oral hygiene, good general health and sufficient residual bone. To assess the latter, a 3D scan is often taken prior to placement.
In 95 % of the cases the implants grow well. In exceptional cases it can happen that an implant does not grow. The dentist then removes the implant, allows the area to heal for a few weeks and then places a new implant.
Risk factors here include:
Poor oral hygiene
Smoking
Periodontitis that also affects the integration of the implant
Diabetes
Bisphosphonate treatments (Bone calcification medication)
Immunity problems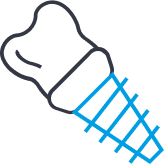 Implant options
An implant is a titanium or zirconium screw that is placed in the jawbone and grows into it, as this material is tissue-friendly. The screw is hollow because an intermediate piece (abutment) is placed on it, ensuring that a tooth restoration can be placed on the implant afterwards. Implants offer many options. One tooth, several teeth or an entire set of teeth can be replaced. If you are already wearing an existing prosthesis, the comfort can be increased by having the prosthesis click into place on the implants.
Replacing a single tooth
If for whatever reason a tooth is lost, an implant can be placed in its place. A crown is then attached to the implant. A major advantage of this procedure over a tooth-supported
bridge
is that no adjacent teeth have to be ground.
A bridge on implants
If too many teeth are missing in one place, a permanent tooth replacement can be made by placing multiple implants that would be more comfortable for the patient than a
removable prosthesis
.
An over-prosthesis
In case of a loose-fitting prosthesis, implants can provide additional stability and retention. This provides the patient a great deal of comfort.
A full bridge construction
If you do not want a removable prosthesis in your mouth, we can insert implants and screw a construction onto them. This is fully fixed in place. The implantologist and dentist should always jointly consider whether this option is feasible. The mouth must meet certain criteria for this to be possible.
Dentius clinics specialized in implantology