Accessibility
Stationsstraat 106, 3920 Lommel
011 55 14 72
By bus
Stop 'Lommel Autoweg' (bus lines 58 and 180) and stop 'Lommel Kerk' (bus line 84)
Parking
Access to the parking at the rear of the practice building. This can be reached via the driveway. Since pedestrians also walk here, we ask you to drive here at walking pace for everyone's safety. Bicycle parking is at the front of the building
Opening hours
📞 Telephone accessibility. Monday: 10:00-13:30. Tuesday-Friday: during opening hours. Toothache during the weekend or holidays? Then you can call the on-call service on 0903/39969.
Make an appointment
Welcome to
Dentius Lommel
We have been committed to your oral health as a team for more than 20 years. These years of experience, in combination with our hunger for innovation and improvement, form the basis for qualitative and sustainable care.
We strive to guide our patients in preserving their teeth on the one hand and acquiring the most aesthetically pleasing smile on the other, by delivering the best possible quality. In addition, your dentist always tries to take your specific wishes and expectations into account.
Our rates
The rates imposed on us by the health insurance fund sometimes make it impossible to manage a modern practice. High-quality materials are expensive. Dentures, implants, crowns and bridges must be manufactured by a competent dental laboratory. Our assistants are indispensable in terms of logistics, hygiene and assistance with the chair. For all these reasons, our rates are sometimes slightly higher than the health insurance rates. On the other hand, our rates are fair and reasonable for the care, quality and knowledge that is provided. In the long run, this way of working is more beneficial, both for you and for the group practice.
Our team consists of sporty people! Walking, running,... . Among us also some with green fingers!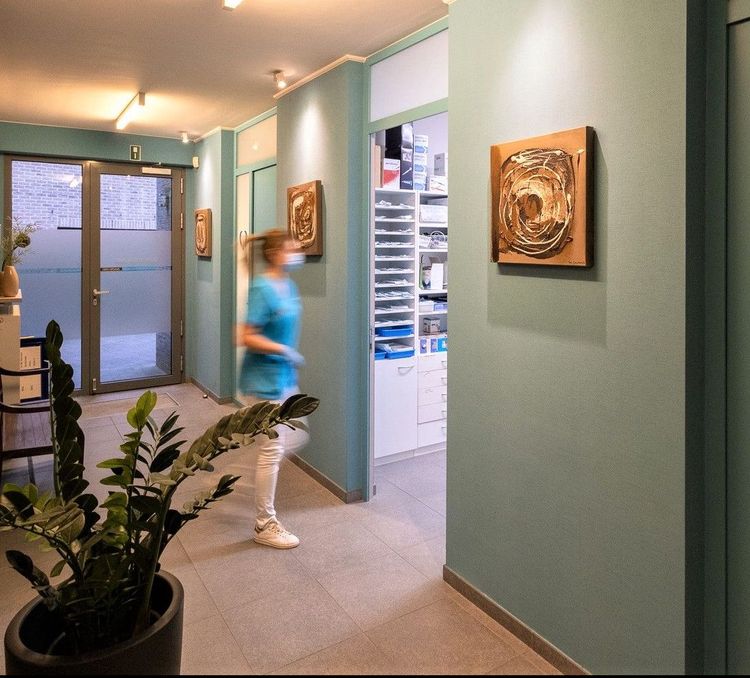 A
team
to meet all your needs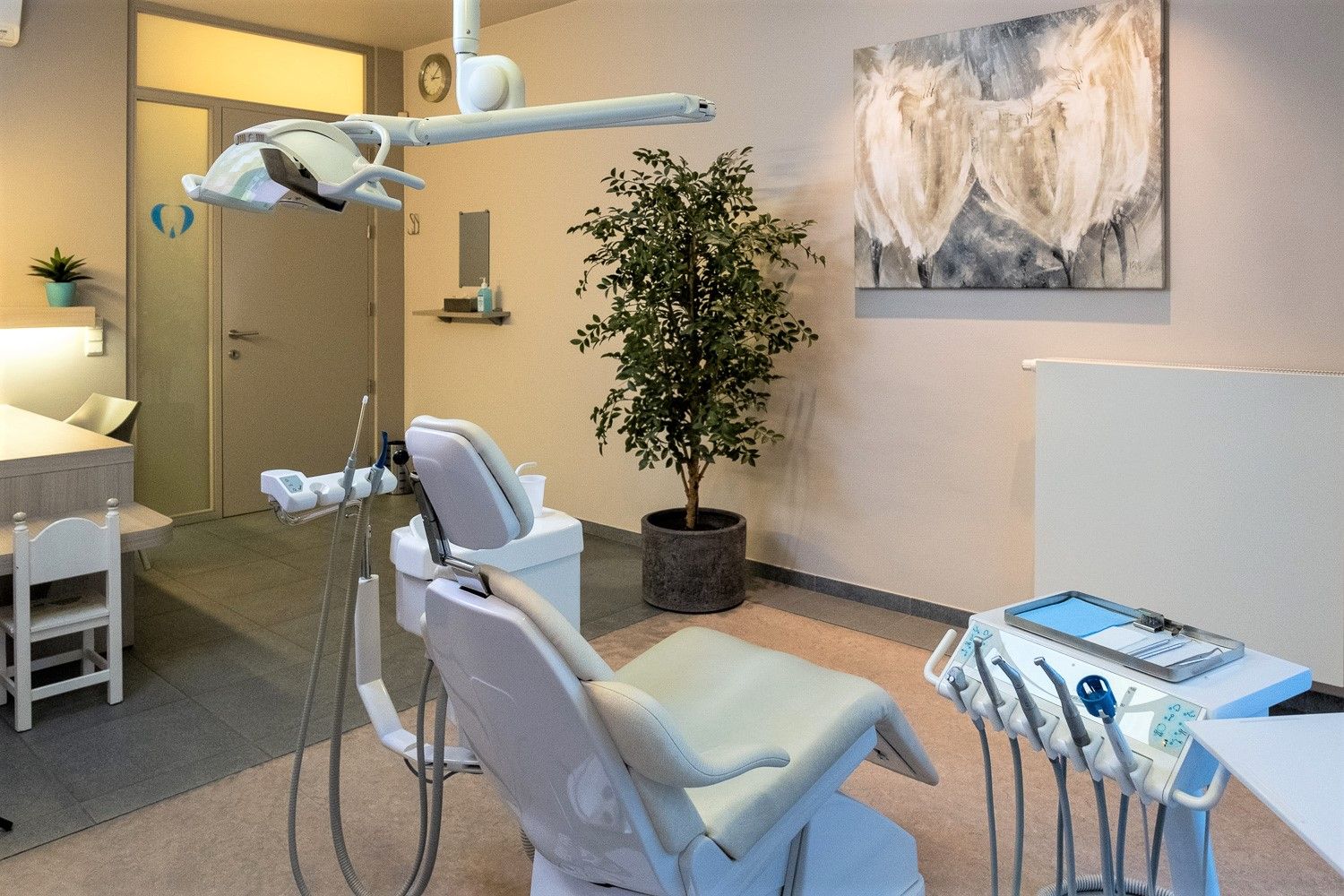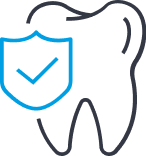 Our best advice for
good oral hygiene
At Dentius we believe that it is possible to keep your natural teeth for a whole lifetime.
Your
first
visit
During your first visit, we will assess your oral health and try to remedy the most urgent problems as much as possible. In case of more extensive problems, we will offer you a step-by-step treatment plan without any obligation on your part.
Anamnesis
In order to treat you as well as possible, it is important that we are aware of your health situation. Therefore, during the first visit we ask you to inform us about any medical problems and prescribed medication via
this form
.
What to bring to the practice
We ask you to bring your identity card and, if relevant, a letter from the referring (dental) professional.
Payment
You can pay in our clinic with debit card or cash. Unfortunately, we do not accept credit cards.
Check up
We recommend that you have your teeth checked once or twice a year, as 90% of emergencies can be prevented if the patient maintains strict oral health. We offer you the possibility to receive a periodic reminder by e-mail.
Making an appointment
We make every effort to give both new and existing patients an appointment as soon as possible. If you wish, we send you a text message reminding you of your appointment 24 hours in advance.
If you are unable to keep an appointment, please let us know at least 24 hours in advance. This way, we can help another patient and you can be rescheduled at a more convenient time.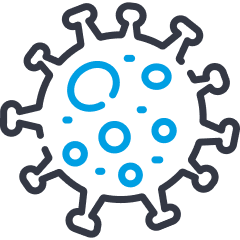 Info Covid-19
Our group practices remain open and continue to provide dental care. We maintain the highest standards of safety and infection prevention and have maintained the same essential precautions since the first wave of COVID to create a safe environment for both our patients and staff.
Your dentist in Lommel guarantees your teeth
From the very first appointment with your dentist near Lommel, your teeth are followed up perfectly. During the first consultation, a thorough check will be made to determine which treatments you need. Are multiple treatments and multiple appointments required? Then several dentists from the team will be assigned to you. You can simply make an appointment via telephone number +3211551472 or via our website.
The team of the dentist in Lommel offers various specialties
Teeth are a complex matter and that is why your dentist near Lommel can count on a team of specialists. Based on the first examination, you can go here for the following treatments:
Prevention: Prevention is better than cure. You will receive advice from the dentist near Lommel on how to best maintain your teeth. A thorough cleaning of the teeth can be done every year.
Dental fillings: your teeth are preserved as long as possible. Cavities or partially chipped teeth can be repaired with dental fillings.
Crowns and bridges: in partially affected teeth, a crown is placed over the tooth. For teeth that are completely affected, an artificial tooth supported by the adjacent tooth is a solution.
Endodontics: This is also known as root canal or nerve treatment. This is necessary when the nerve is dead or inflamed.
Dentures or removable dentures: this can be a full or partial denture. The prosthesis can connect to the gums or be supported by an adjacent tooth.
Pediatric dentistry: with children it is often about prevention and getting them used to the dental practice. They are allowed to come along with the parents from a very young age. This reduces the fear if they too will be sitting in the dentist's chair.
Aesthetic dentistry: in addition to the health of your teeth, your dentist near Lommel also pays attention to the view. This may concern, for example, correction of the position of the teeth, whitening of the teeth or filling teeth with fillings of the same color as your original teeth.
Acute problems: you are always welcome for urgent dental problems. Think of a tooth that has broken off and causes excruciating pain, swelling that cannot be controlled by a painkiller or bleeding that occurs after surgery.
Tooth extraction: sometimes it is unavoidable that a tooth has to be removed. Your dentist near Lommel guarantees you a minimum of pain and a minimum of burden afterwards.
Referrals: of course there are dental problems that unfortunately we have to give up. But we will not let you down and will gladly refer you to colleagues or the clinic.
Go for perfect oral hygiene together with your dentist in Lommel
The more you take care of your teeth yourself, the less often you need to visit the dentist. Read all about oral hygiene on our website. You will find out which toothbrush and toothpaste to use, how to clean interdental and how to use mouthwash or a tongue scraper.
Together with you we go for perfectly beautiful and healthy teeth!